Wine Tasting Event
How to Host a Wine Tasting Event
By Michael Siegler - Ezinearticles
Hosting a wine tasting event is a great excuse to get together with friends, learn about wine, and have fun while doing it. The US wine industry began an unprecedented resurgence in 1994, and the film Sideways and online personalities like Gary Vaynerchuk have propelled the industry even further in recent years. The US is now the number one market for wine sales and one of the top three countries for total consumption of table wine. Wine is no longer a mysterious drink for the wealthy, and young adventurous wine drinkers are driving the growth. Wine isn't just a drink, it's about the experience. And what better way to experience wine than to host a wine tasting party?
The first step in any event planning process is to choose the date. Get your feelers out by mentioning your plans to several important guests. Since you will be drinking wine, it's best to hold your event on a Friday or Saturday. If you're planning a big party, you'll need to choose a venue as well. Call around to local wine bars, wine shops (not the huge retail establishments), restaurants and hotels. Depending on how you'd like to structure your party, you'll often have a lot of negotiating power on your side. You may be able to convince the owner to allow guests to bring their own wine, or the retailer or restaurant could work alongside a distributor to provide wine for the event that will later be available for purchase.


If you are hosting the event at home, you'll have a lot of flexibility about what type of tasting you'd like to have. A fun option is to hold a blind tasting in which each guest or couple brings one or two bottles of wine to the party. As guests arrive, the host wraps each bottle in a paper bag and writes a number on the outside with a black marker. The bottles are simultaneously recorded on a master "Answer Sheet" and also recorded (in random order) on a public "Wine List" that everyone gets to see. As the night begins, everyone is free to taste the wine in any order and at any pace and attempt to match each numbered bottle to a wine on the "Wine List".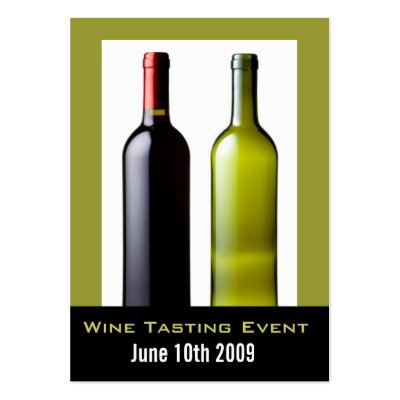 Another popular wine tasting event style involves having two or more wines available for each grape varietal. Guests can then try the two wines side-by-side and compare differences in taste that could be attributable to the vintage (year the grapes were harvested) or the appellation (where the grapes were grown). If you'd like to host this type of event, you'll want to coordinate up front so that each guest brings a wine from a specific varietal or appellation.

In order to make sure the night is a success, you'll need to do a bit of preparation up front. Ensure that you have a wine glass available for each guest. It's always a good idea to have clear plastic cups or glasses available in case you run out. Don't get solo cups as they are too big, but also make sure that the glasses are not too small. Plastic wine glasses or plastic champagne glasses are often very small and can cause big problems when drinking wine, including spills and the inability to swirl. Having wine glass charms or ornaments on hand is also a great idea, as they allow each person to keep track of their wine glass. It can get confusing with twenty people walking around the kitchen! Make sure that you also have enough wine available in your own rack, even if you are asking guests to bring wine. You never know how much fun everyone will have or how long guests will stay, and you should always be prepared.

You'll also want to have appetizers available throughout the night. While chocolate is a classical wine pairing, it actually isn't the best accompaniment when trying to focus on the flavor of the wine, as it can alter the taste profile. The same can happen with cheese, but to a lesser extent. Hard cheeses go best with wine and cheeses with cow's milk typically go well with red wines. Plain crackers, bread, and water are all very important as they can help cleanse the palate between wines. Grapes and other fruits go well with white wines, and salami and other cold sliced meats often work well with a variety of wines.

Wine Tasting Event